All the events we run.
Now in one helpful place!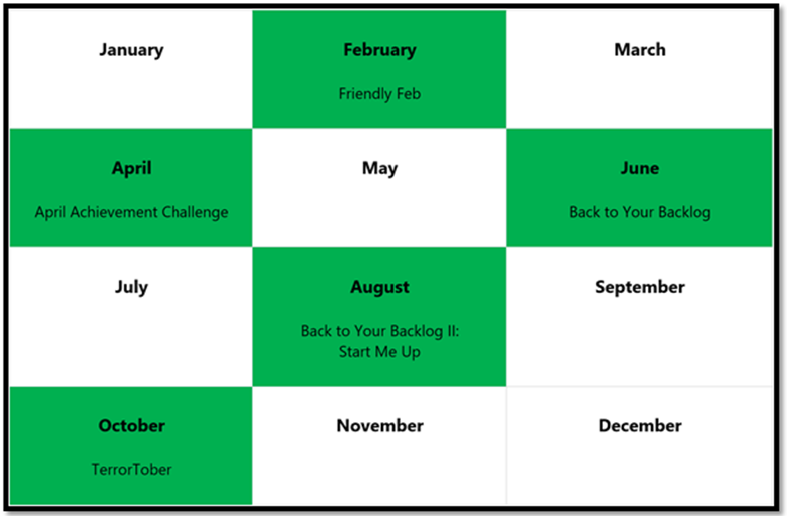 We run events throughout the year. Evenly spaced out because we know life is busy. And that not every event is for everyone.
We run these events over Discord as our main way of interacting, so if you do take part, join us there!
February is the month of love.
So, what better way to celebrate than by challenging yourself to play and complete a non-violent game!
Cities: Skylines, Forza, DOOM… Ok maybe not DOOM. But you get the idea.
Play a game, or games, which does not hurt a digital fly.
Runs throughout February.
April Achievement Challenge
You know it and love it.
This is the one where you go all gung-ho on video games trying to rack up that sweet, sweet gamer score.
Get the most achievements to earn our love.
Get the most gamer score to earn our respect.
Runs throughout April.
A good excuse to dig through a game you started but never completed.
Is Mass Effect 3's ending really as bad as everyone said it was?
Now is your chance to find out.
Runs throughout June.
Back 2 Your Backlog 2 –
Start Me Up
We have all bought games that have gone straight into our backlogs. There is no shame in that. It's a part of life.
Here is your excuse to play a game that you paid money for, you may have even downloaded it, but you have never, not even once, started it up.
We're just here to make you a better person.
You can thank us later.
Runs throughout August.
Because Shocktober is way too mainstream.
Get your horror games out and see if you can make it to the end of one.
There are no winners for this one, only losers…
Runs throughout October.
Not really an event, but we do let you vote on stuff! So it kinda counts?
All the best and worst that the year has to offer, all in one 3-hour long podcast.
Runs throughout December.